IDHO 2017
Traditionally the IDHO kicked of with a well visited reception and dinner in the Grote Huis. 18 guests with several first timers such as Francine Boske, Helga Scholz, Margaret de Vos van Steenwijk, Peter Kerstens, Markus Kümmerle and Johan van Dam bravely faced the various bits and pieces of food and drink that were thrown at them by the IDHO staff, to create that fabulous inclusive atmosphere that is the signature of the IDHO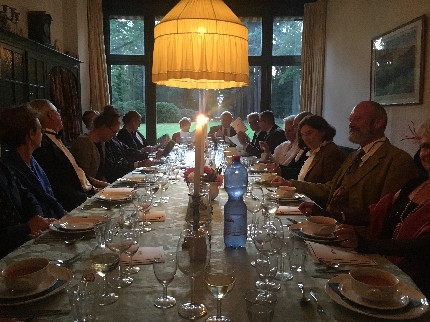 A steady drizzle accompagnied the players all day during the 8th IDHO. However, unhampered by the dreary circumstances and the cold, Britta Nord and Iain Forrester delivered their strokes imperturbably, to lay their hands on the much coveted title of winner of the International Dutch Hickory Open 2017 and to be recorded on the winners board of the IDHO.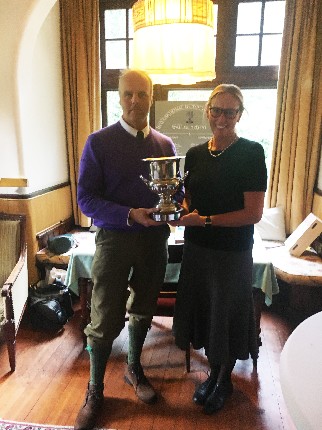 Mr. Forrester was exceptionally impressive with his score of 74 strokes, 2 above par and a stunning 8 strokes ahead of the nearest competition which consisted of nobody less than Perry Somers and Brian Gee. Those two, both being troublemakers of some sort, rose to this occasion by both ending with 82 strokes. A slightly awkward discussion ensued about the geriatric qualities of both players, but in the end all this was settled, as so much in life nowadays, by the computer who split the two contestants on the basis of their score on the 2
nd
9 holes, making Perry 2
nd
and Brian 3
rd
.
For the ladies, Lily Waller came in 2
nd
with 97 strokes, two behind a swirling Britta. Ria Frenken accentuated her debut at the IDHO with a 3
rd
place with 115 strokes.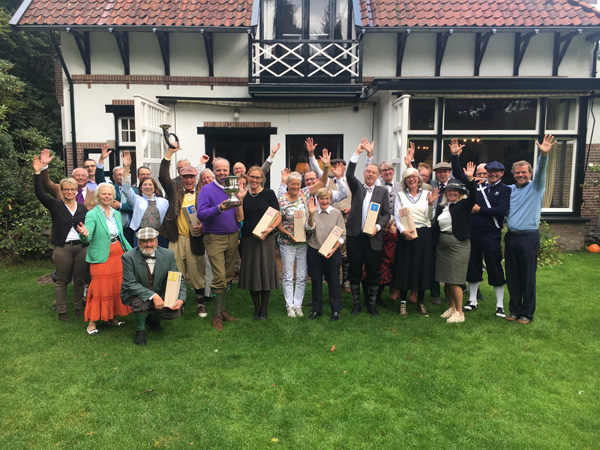 Iain indeed played so well that he came in as 3rd in the Stableford ranking, which, in style with this event, is practically unheard of.
Boris Lietzow finally saw the fruits of his relentless practicing and won the Stableford competition ahead of André Dubbeldam and Iain. Some, no doubt out of petty jealousy, suggested that this might be due to the fact that Boris and André were in the same flight, stated that their cards were either lost or unreadable, and handed in their countersigned cards filled in from their infallible memories. If we were to believe this, which we emphaticallydo not, we would congratulate these men with their astuteness. As it is, we congratulate them with their accomplishment.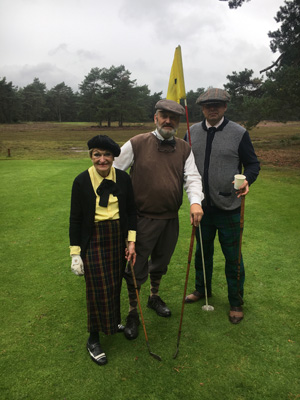 Finally, the most coveted prize of Best Dressed was won by Wilma van Rijn (136 strokes) and hornblower Willem Themmen (128 strokes) who both brought style and splendour to an otherwise grey day.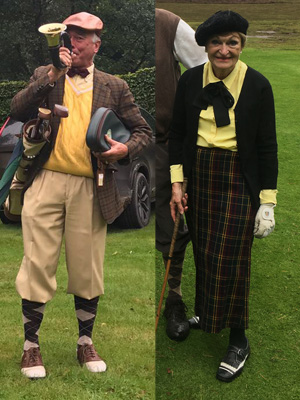 Happy faces and improving weatherconditions marked the end of another great edition of the International Dutch Hickory Open. We look forward to see all of you and more at the IDHO 2018!

The IDHO Team